The Winking, Blinking Sea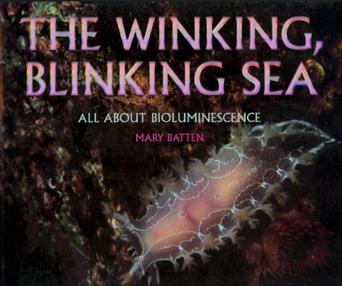 "...this excellent book explores the rarely seen yet quite abundant luminescent sea life found deep in our planet's oceans. . . . It would be a benefit to any school or class library."
National Science Teachers Association

Named one of "The Best Children's Books of the Year", Books Published in 2001
Children's Book Committee, Bank Street College of Education

"... an accessible overview of bioluminescent sea life, accompanied by color photographs that go a long way toward explaining [the author's]fascination with this phenomena."
The Bulletin of the Center for Children's Books

"... appealing and enlightening."
School Library Journal



Have you ever chased a firefly on a dark summer night? There's something about that winking light that makes you want to capture it, if only for a second. some of the creatures in this book make the same kind of light that fireflies do, using chemicals in their bodies. You would want to chase after some of them -- like the glowing dinoflagellates, which would wash your body with a starry glowing shine. some, however, like the black dragonfish, you would want to chase away! Open this book and dive into a world that is both dark and light.

Published by The Millbrook Press.